Mass Effect Secret Santa
From the Something Awful ME2 Thread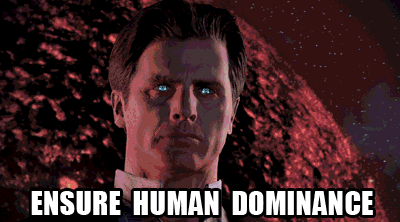 In the Something Awful Mass Effect thread, we decided to do a Secret Santa where all gifts must be Mass Effect related. Here's where we show them off to you, the internet.

As more goons report back with what they've received, this page will continue to be updated, so check back often over the next month! Only 21 out of 27 have received their gifts so far, and the rest will be worth coming back for!

View the Flickr set of photos - This will also be updated as more gifts are received.

There were two ways to participate - physical gift (an actual object you send through the mail and e-gift. All of them will be featured below!

Lil Bit O Vitriol made this kick ass, one of a kind Che Garrus shirt for Hedrigall
Skoolmunkee (who made the animated gif above!) made Count Choculitis (our awesome ME2 thread OP) A coloring and activity book - View the first two pages and View the 5th and 6th pages.
Check out Count Choculitis' Coloring Pictures!
***Download the Coloring Book by clicking here***!
And now Skoolmunkee has gifted us ALL with the ***Mass Effect Coloring Book #2***
Annakie (that's me!) sent tokomon a cache of goodies that were found during a C-Sec raid on an old hideout of Dr. Saleon's. View the photos: 1, 2, 3, 4, 5, 6, 7!
Baggins recieved a Cerberus internship with a special task to complete from magimix! Pic 1 Pic 2 (Text in comments). More to come as Baggins completes his internship!
It turns out that Lil Bit O Vitriol is a Batarian, but rhinos was thoughtful enough to give him a pair of sunglasses! View the pics: 1, 2, 3, 4, 5.
Comix Bitch received some interstellar post cards from Noxville! (Seriously, click that link and check them out, too!) Not only that, but she also got a SICK-NASTY puzzle. There's also the promise of more to come! View all the pics: 1, 2, 3, 4, 5!
Rinkles was given an original comic from Doctor Reynolds, telling the real story of what happened at the Omega-4 Relay!
Who wouldn't want their own MAKO? Zulu did, so Baggins sent him one! Pics: 1, 2, 3.
One of our resident Kaidan fanatics, Egad! received this incredible digital picture frame of Kaidan from Traxus IV! 1, 2, 3, 4, 5, 6. (Kaidan fanatics for-evah! *high five Egad!*)

Hypothetical McGee was gifted by tokomon with the care and feeding of baby Asari, Krogan and Hanar, plus a box of yummy treats! Also, red sand so she can develop a terrible addiction, how sweet! Seriously there's so much awesome you just have to check out all the pics: 1, 2, 3, 4, 5, 6, 7.
Hedrigall sent rhinos a subscription to Fornax! (It also came with a Mass Effect: Redemption graphic novel.) Skoolmunkee also helped out and made the actual Fornax cover (NSFW, obviously) Pics, anyone? 1 - THE TEXT IN THIS PICTURE IS NSFW, 2, 3, 4.
The Illusive Man (Otherwise known as Space Racist) was able to crack Kasumi's greybox and sent it back to Commander "exquisite tea" Shepard. How thoughtful! Read the letter and view the pics here: 1, 2, 3, 4.
Hypothetical McGee gifted Olanphonia with his very own Hanar! As a bonus, there was Hotel Azure stationary! Here's pictures: 1, 2, 3, 4, 5, 6.
Cerberus Agent Hennesy Hero was sent a package which was meant for Kelly Chambers that The Illusive Man (aka Canuck-Errant) intercepted. There are pictures! They're a bit blurry, so you may want to read the descriptions as well. 1, 2, 3, 4, 5, 6, 7, 8, 9, 10, 11, 12, 13.
Hidohebhi was given her Shepard's Dog Tags from exquisite tea! See the Note and the Tags
Skutter was given these awesome Mass Effect themed mousepads by HennesyHero! See pictures: 1, 2, 3
MrL_JaKiri Got his very own space hamster(!!!) and a piece of original artwork (actually, two versions of it) from Comix Bitch! And the pics... 1, 2, 3, 4
I received this neato Mass Effect Standee from Skutter, then I made my friends put it together when they were drunk, muhaha. Then I took pictures! 1, 2, 3, 4, 5.
Noxville received a shipment of old pulp Sci Fi books from MrL_JaKiri to keep him company on those cold Normandy nights.
This is one of those "You have to download it to appreciate the genius of it" E-Gifts. Rinkles made Renaissance Spam an animated Garrus Choose Your Own Adventure interactive story. It's truly awesome. DOWNLOAD IT HERE and read the README to see how to make it work!.
Traxus IV got her very own varren from The Illusive Man, via Hidohebhi! ADORABLE and TOOTHY. View the pics! 1, 2, 3, 4, 5 6.
Check out our page of Mass Effect Holiday Humor!
(Hey, Kotaku noticed us! Thanks Kotaku! This lead to the page being on Steam's news page for ME2. And also, we made the "top" page of Reddit!)
Huge thanks to skoolmunkee for making the MESS animated gif, for helping me with the html on this page, and for being all around generally awesome. :3